Datenbank Import und Export
Um Importe und Exporte mit dem Hana Studio zu machen empfehlen sich folgende SQL Befehle:
# export als binaryinangegeben pfad
export "FOO"."*"asbinaryinto'/path'withreplacethreads 10;
# Falls es Probleme beim Export mit einigen Tabellen gibt bezüglich der merges dann folgendes ausführen
merge delte of[table];
# import eines binarybackups unter neuem namen
import "FOO"."*"asbinaryfrom'/path'withrename schemaFOO TOBAR;
# Falls es Probleme beim Import gibt:
import "FOO"."*"asbinaryfrom'/path'withignoreexisting rename schemaFOO TOBAR;
Datenbankbenutzer zurücksetzen wegen zu vieler fehlgeschlagener Logins
Siehe dazu: http://scn.sap.com/community/hana-in-memory/blog/2016/01/25/hana-system-user-can-be-locked-for-too-many-failed-logon-attempts-starting-with-rev102
SQL Befehl zum zurücksetzen des SYSTEM Benutzers:
ALTER USER SYSTEM RESET CONNECT ATTEMPTS
Passwort Policy anpassen
Um die Security Policy etwas zu lockern kann man die Einstellungen wie auf dem Bild verwenden.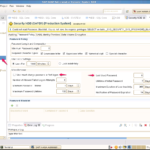 Starten der Hana DB bei Systemstart
Falls man bei der Installation vergessen hat zu sagen, dass die Hana DB automatisch mit gestartet werden soll beim Systemstart kann man das wie folgt nachholen:
1. Log on to the SAP HANA host as a user with root authorization.
2. Change to the system profile directory /usr/sap/<SID>/SYS/profile.
3. Edit the profile <SID>_HDB<instance number>_<host name>.
4. Change the parameter setting Autostart = 0 to Autostart = 1 .
5. Save the profile <SID>_HDB<instance number>_<host name>.
Siehe: http://saphanawiki.com/2015/07/enable-automatic-start-of-the-sap-hana-database-automatically-after-server-reboot/
Installer Optionen
Nützliche Optionen für den Hana und Business One Installer:
Ignore Memory
Ignore Signature File
--ignore=check_signature_file
Hana SYSTEM Benutzer zurücksetzen
Siehe: http://scn.sap.com/docs/DOC-33097
http://help.sap.com/saphelp_hanaplatform/helpdata/en/c0/1fc0f5d38c47c69204d84a700d0ca7/content.htm
su - ndbadm
./HDB stop
cd exe
hdbnameserver &
hdbcompileserver &
hdbindexserver –resetUserSystem
-- alle dienste wieder stoppen mit STRG-C und kill
-- danach
./HDB start
Disable default lock down
Bearbeite die Datei: /hana/shared/NDB/exe/linuxx86_64/HDB_XXXXX/config/indexserver.ini
Änder den Wert von password_lock_for_system_user auf false
Starte die Hana Services neu.
Die normale System indexserver.ini liegt in /usr/sap/NDB/SYS/global/hdb/custom/config